Dozens dead after another major earthquake centered in Nepal
by
Lotus
May 14, 2015
0 comments
According to the latest news from CNN channel, Nepal continues to face another earthquake at 12'30 am on May 12th with magnitude-7.3 richter, caused many serious effects about people and wealth. Opal WordPress update this information and introduces for everyone. Hoping all of us can share and help Nepal people to overcome the difficult period. Now we follow the below events of Nepal Earthquake!
Latest developments
• At least 65 people have died in Nepal from Tuesday's magnitude-7.3 earthquake there, the Nepali government said Wednesday. The number of people injured now stands at 1,926, said Nepali Home Ministry spokesman Laxmi Prasad Dhakal.
• At least 17 people in India have also died as a result of the tremor, Indian Home Ministry spokesman Kuldeep Dhatwalia told CNN. A woman in Tibet, a region of China, was killed by falling rocks, the Chinese state-run news agency Xinhua reported.
• A U.S. military helicopter was declared missing Tuesday while in Nepal to support earthquake relief efforts there, officials said. The UH-1 Huey helicopter had six U.S. Marines and two Nepalis aboard at the time, the Pentagon said.
• Aftershocks continued predawn Wednesday in Nepal. A CNN team there felt one such big one at 2 a.m. local time that shook buildings and terrified survivors, many of whom were sleeping outside or ran from their homes.
Full story
Just over two weeks after thousands died in a mammoth earthquake, Nepal got hit hard again Tuesday by another powerful tremor that has left dozens more dead, more than 1,000 injured and questions about what's next for the already traumatized Asian nation.
Tuesday's disaster piled fresh horror on Nepalis still picking up the pieces from last month's quake and its legion of aftershocks. More buildings collapsed, more landslides rumbled and people once again scrambled for their lives.
"For the first seconds, it was complete silence. By the fifth second, everybody started to scream," said Marc Sarrado, a 41-year-old documentarian from Spain who was in Nepal's Nuwakot Valley, about two hours northwest of Kathmandu, when the quake hit.
"It was really, really intense. Even when the shaking stopped, people were still screaming. They were completely panicked, because they knew exactly what it was." @Marc Sarrado
Tuesday's magnitude-7.3 earthquake struck about 9.3 miles (15 kilometers) deep, the U.S. Geological Survey said. In comparison, the magnitude-7.8 quake on April 25 — which killed more than 8,000 people — was centered to the northwest, rather than to the east, of Kathmandu and a little farther away (48 miles rather than 47 miles). Although at a similar depth, that earlier tremor was more than three times bigger and 5.6 times stronger, in terms of energy released, according to the USGS.
Tuesday's quake was weaker but still deadly.
Nepali Home Ministry spokesman Laxmi Prasad Dhakal said Wednesday morning that at least 65 people in his country had been killed. The number of injured stood at 1,926, he said. Dozens of people were rescued alive from rubble, according to officials.
The carnage wasn't confined to Nepal. China's state-run news agency Xinhua reported that a woman in Tibet died Tuesday afternoon after falling rocks hit the car she was in. At least 17 people were killed in northeastern India, according to Indian Home Ministry spokesman Kuldeep Dhatwalia. India's military was also involved inside Nepal, caring for casualties and flying them by helicopter from the village of Mrigu to Kathmandu.
Throngs rush out into the streets of Kathmandu
Once again, residents of Nepal's capital and most populated city found themselves in the middle of a nightmare, in the middle of the day.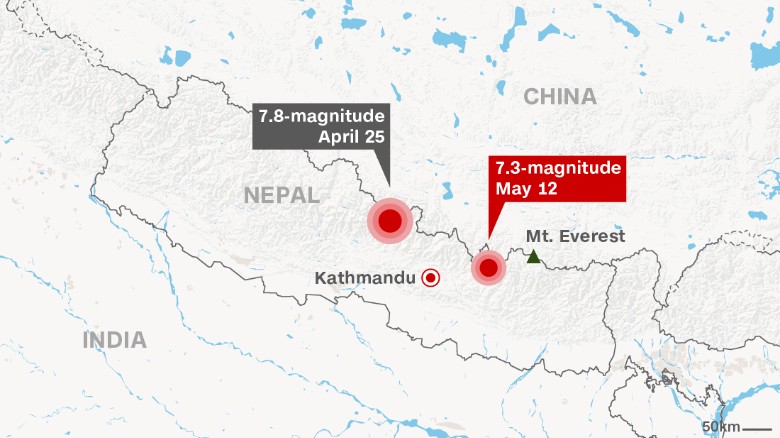 Open space is often a precious commodity in Kathmandu, but especially on Tuesday. The city's roads quickly clogged with people, many of them crying, according to Sajan Sharma.
CNN iReporter Prashup Rajbhandar initially huddled with loved ones as his four-story house swung back and forth, before rushing outside. Now, fearing a crack in his house, he's not sure whether he'll ever go back home — instead making do by cooking on his lawn and sleeping in cars.
"People are very scared," Rajbhandari said. "And they don't know what is going on."
Another resident of the capital, Mingma Sherpa, said he and his friends jumped out of his car when they felt the earth begin to tremble. They ran with crowds of other people desperately seeking open space in a congested area of Kathmandu where there are few.
The quake also caused a spasm of chaos at Kathmandu's airport, where Channel NewsAsia reporter Jack Board filmed hundreds of people running from the building as the ground rumbled.
Expert: More aftershocks likely
The fact such a big quake hit so soon after the one last month indicates that more tremors could come at any time. Residents in the region dealt with a number of powerful aftershocks Tuesday, including one at magnitude 6.3 about a half hour after the initial quake.
Such seismic activity is hardly unprecedented for Nepal and the vicinity. After all, earthquakes created the country's signature mountains, such as Mount Everest.
"It's land crashing into land (and) it's going up, not going under," CNN meteorologist Chad Myers said of the collision of the Eurasian and Indian plates, warning of dangerous landslides as monsoon season approaches. "Every time it crashes, the Earth moves. Every time it shakes, there's strain."
Amy Vaughan, a USGS geophysicist, notes the 7.3 quake — while still, technically, an aftershock — has rattled things again. It may settle down eventually, but not right away.
"Generally, in the days and weeks and months (seismic activity) tapers off usually, and the intensity and frequency of the aftershocks will die down," Vaughan said. "But … this is going to temporarily increase (the aftershocks)."
And that leaves Nepalis having to continue to brace themselves for more seismic activity.
Sarrado, the Spanish documentarian, said he felt that people he saw managed to compose themselves after the initial shock of Tuesday's quake had eased.
"They know what it means by now," he said. "Everybody is reacting very well … The Nepalese society has learned so fast to deal with an earthquake from an emotional point of view."
Saugat Adhikari, a blogger and lifelong resident of Nepal, isn't so sure. He worries about poorly constructed homes and what he saw as some people's complacency, after being on guard for a few days last month.
"I don't think people were more prepared this time; people really felt like (the threat) was gone," Adhikari said. "Now they are more frightened."
Special report: Nepal's catastrophic quake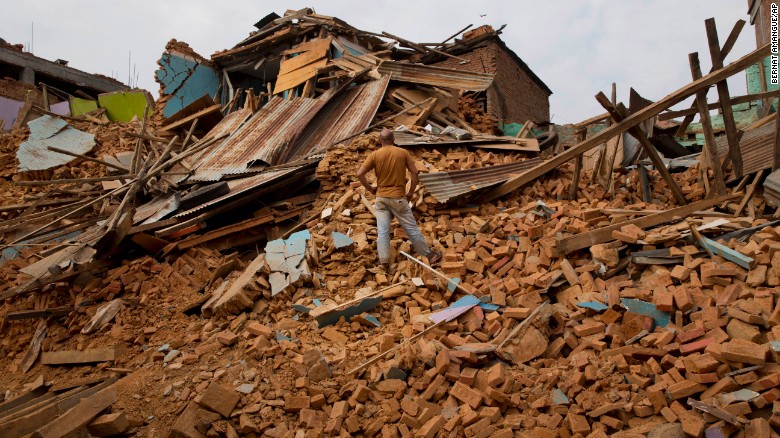 Really this is a big loss of Nepal to overcome. We give a hand to help community, please donate, raise funds and support food, clothes to Nepal Government so that they can share with their unlucky people in this difficult period. As Opal WordPress – a small element in the global world, besides money we also call people to
Save Nepal Earthquake with Unity Theme
– our product.
Lotus
Hello World! We are from Opal WordPress - one of the leading WordPress Theme Providers in the CMS Market. We are making great effort to develop nice products with advanced features and good services.
Related Posts
Stay up-to-date with the latest information.